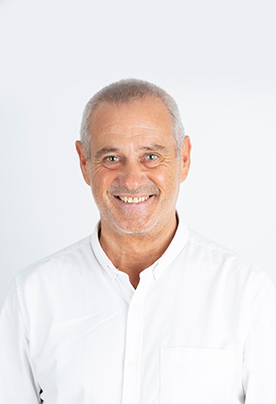 TOP
Jorge S.
Country of residence
Spain
Languages in which you practice coaching
Spanish, English
Professional certifications (Level and Association)
MCC by ICF, CEC-S by AECOP
Experience in executive coaching
Since 2003. More than 4500 hours
Accreditations in diagnostic tools
MBTI, PDA, MPA, User of: 360º, DISC, INSIGHT, TKI, FIRO-B, 16pf, BELBIN, TDA
Other certifications
Team Coaching, NLP, NLP with DBM, Neurocoaching and Neuro-leadership, Psychodrama, Appreciative Inquiry
Main competences (3)
Challenge, Vision Zoom, Presence
Expert profiles
CEO, DG and Management Committee
Specialist areas
Financials, Large Consultants, Industrial Technology
Areas of expertise
Leadership, Team Management, Motivation
Professional purpose
To leave a mark on the people I accompany so that they become leaders, leaders who are capable of creating more leaders
Professional experience
Degree in Chemistry and Master in Commercial Direction and Marketing. 12 years in FARMA Industry (Syntex, Palex and Sanofi). 20 years in Human Resources Consultant (Coutts, MOA-BPI and Altedia Group) in General Management positions. President of Atesora Group and founder of Lider-haz-GO!, companies from which he has accompanied as coach to countless executive profiles of the most varied sectors. One of the top 10 Spanish Coaches according to the prestigious top Ten Management list in Spain. Speaker at National and International Congresses and permanent colloborator at universities (UEM, Universities of A Coruna and Santiago) and business schools such as Francisco de Vitoria, ESADE, IE, San Pablo-CEU, ESEUNE. He published with Editorial Planet his novel: "The Girl with the Eyes of the Color of My Pool" and together with other colleagues a book of approaches and coaching cases for the high direction: 'Undressing the manager's soul'. Recently he published his third book: "The Cameleon Company"